thermic fluid heater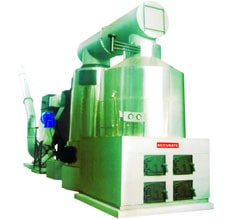 SAFETY FEATURE TO INCREASE EFFICENCY
Power Failure :Diesel engine keeps thermic fluid moving to avoid overheating
Low thermic fluid flow :Differential Pressure Switch (DPS) across inlet and outlet headers cuts off the fans, slowing down combustion
Coil choking :DPS across orifice plate cuts off the fans slowing down combustion
Thermic fluid temperature beyond set limit :Temperature switch cuts off the fans
Low thermic fluid level in expansion tank :Level switch cuts off the fans
Thermic fluid pump motor trip :Electrical interlocks cuts off fans
GENERAL DESCRIPTION AND MAIN FEATURES :
The most suitable for coal, husk, lignite, agro-waste, bagasse etc...
"ACCURATE" Thermo pack is optimum level output with some modification in combustion chamber.
Radiant heat exchanger above the furnace keeps cooled. Hence, less excess air in required and which ultimately increases efficiency.
Combustion air for F.D. fan passes through air preheater that absorbs the waste heat in the flue gases. It ultimately result into increase in effiency.
Means reduction of infiltration unwanted air through fire gates of minimum level. It result into maximum heat recover from air preheater and assures greater efficiency.
Diesel engine keeps thermic fluid moving to avoid over heating in case of power failure.
Level switch cuts off fans low thermic fluid level in expansion tank.
APPLICATION :
Textile Industry
Chemical Industry
Pharmaceutical Industry
Distilleries / Breweries
POY
Paper Industry
Dairy Industry
Food Processing Industry
Playwood & Lamination Industry
Solvent Extraction Plants
TECHNICAL DATA :
SR NO

TECHNICAL DETAILS

TYPE

ATPL-400

ATPL-600

ATPL-800

ATPL-1000

ATPL-1500

ATPL-2000

ATPL-2500

ATPL-3000

ATPL-3500

ATPL-4000

1

Heat output capacity

Kcal/hr

400000

600000

800000

1000000

1500000

2000000

2500000

3000000

3500000

4000000

2

Thermic fluid flow rate

Lit/hr

24000

36000

48000

60000

90000

120000

150000

150000

175000

240000

3

Circulating pump

hp

10

15

20

20

30

40

50

60

75

75

4

I.D. Fan

hp

5

10

15

15

20

25

30

40

40

50

5

F.D. Fan

hp

2

3

5

5

5

7.5

10

10

10

15

6

Coal consumption approx.

7

Steam coal

kg/hr

120

175

235

290

435

580

750

850

1050

1160

8

Lignite

kg/hr

152

228

310

380

570

760

950

1140

1330

1520

9

Working space (Meter)

L

9

9.5

9

12.7

13.3

13.7

14.6

15

15

15.4

W

6

6.4

6

6.5

7.2

7.3

8.2

8.3

8.3

8.3

H

4.6

4.9

5

6.1

7

7.6

7.9

8.2

9.1

10